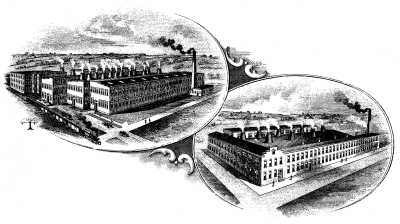 BrushMcCoy.com is your comprehensive guide to researching pottery produced by the J.W. McCoy Pottery Company, The Brush-McCoy Pottery Company and The Brush Pottery Company, of Zanesville and Roseville, Ohio. Our focus is to provide an ever-expanding site that will be your first source for obtaining knowledge of these companies and their wares. We are dedicated to the preservation of fact and increased understanding of the manufacturing process, history, and products of Brush-McCoy. This Guide is not intended to be a replacement of existing reference books, but is an accompanying reference that will enhance and expand on this existing information. This Guide is currently has 406 web pages of content.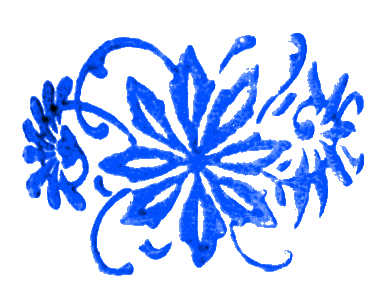 "Happy NewYear"
- From The Online Guide to Brush-McCoy Pottery! We're wishing you a safe, happy and successful year... full of Brush-McCoy finds!


1/15/06 Looking for the BrushMcCoy.com Forum? We have changed it's location! You may want to update the link in your Favorites or Bookmarks.
12/7/05 The Cookie Jar Section has been updated, and now includes pictures of the bases of most of the Brush cookie jars. You can get a good look at what's authentic, and what's not.
11/4/05 "Thumbnail" sized pictures were increased throughout the Site to make viewing easier. Browse through the pottery lines to take a look at new, larger pictures.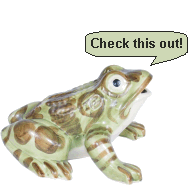 3/23/05 The 1948 through 1978 Brush Catalog Index is finally complete! Every shape which appears in these catalogs has now been indexed in numerical order. Now, for the first time, you will be able to look at a piece of pottery which is marked with a number, and find out if it was a shape produced by Brush that was shown in these Catalogs. This is a super-comprehensive "guide by numbers" that contains thousands of links to 195 different Brush Catalog Pages.
2/25/05 The Early Lines and Early Lines 2 sections have been updated with more pictures of Carnelian, Rosewood and others. Keep watching this section for more pictures to be added.
1/30/05 The original 1978 Brush Catalog has been added. All of the Brush Catalog sheets are now linked to one-another in sequential order so you can browse from page to page. Many of these sheets have never been published. 195 different catalog pages have been added recently, and we will be adding more catalogs in the future!
1/29/05 The 1973 and '76 Brush Catalogs have been added.
1/28/05 The 1972 Brush Catalog has been added.
1/18/05 The 1971 Brush Catalog has been added.
1/15/05 The 1969-70 Brush Catalog has been added.
1/11/05 The 1967 and '68 Brush Catalogs have been added.
12/30/04 The 1965 and '66 Brush Catalogs have been added. 12/29/04 The 1962, '63 and '64 Brush Catalogs have been added.
12/27/04 The 1959, '60 and '61 Brush Catalogs have been added.
12/24/04 The 1948, '54, '55, '56 and '58 Brush Catalogs have been added.
10/10/04 The "Early Lines" section has been updated with new, important information and many pictures of some of the earliest wares produced by J. W. McCoy. We have uncovered some significant information regarding this period, and you will only find it here - in this Guide.
10/6/04 A few early pictures of the J. W. McCoy plant were added to the History Timeline. One was added to the 1903 page, and two to the 1905 page. These are great, nostalgic photos you may have never seen before.
10/4/04 The "Marks" section is now relatively complete! There is new, never-before published information here. We have uncovered some more exciting facts about the earliest wares produced by J. W. McCoy!

Research Pottery By
Production Numbers – The online database contains most of the production numbers ever produced by Brush-McCoy that were documented; there are over 1,300 of them! This tool is unique to BrushMcCoy.com. You will be able to view pictures and catalog examples of many of these production numbers. This "by the numbers" area is expanding regularly.

Glazes and Lines – most of the lines and glazes are represented here. We have added new information regarding many of these lines. Because of the way the Lines are indexed, it is easier than ever to find what you are looking for.

Catalog Sheets - Browse through the original BrushMcCoy Catalogs - larger and more detailed than you have ever seen them. Each sheet is categorized by the original date of publication. There are currently 232 different pages for you to view.

Search Page - Use the Search Page to search to look for documents throughout BrushMcCoy.com that may contain the shape or line you are trying to research. Enter keywords such as vase, jardinière, umbrella stand, etc, to help simplify your searching.

Forum – A discussion area focusing on everything to do with Brush-McCoy. You can now discuss different topics with other collectors, dealers and pottery experts. You can offer or view pottery that is "for sale" or "wanted" by other registered users. There is no charge for using the Forum, and access is available to everyone.

Mystery Pots - If you are uncertain of the manufacturer of a pot you own, but suspect it may be Brush McCoy Pottery, you can post a picture in the Mystery Pot area, so other users can help with identification.

Abbreviated Letter codes were used by Brush-McCoy in the original catalogs to identify many of the glaze production lines. This guide contains a unique explanation of what these abbreviations represent.
Special Features
History Timeline This area is a comprehensive view of the history of Brush-McCoy and some of the employees who were fundamentally important in shaping the Company. This a unique area that allows you to view important dates in Brush-McCoy history; which will help simplify your understanding of what happened - when. There are many new and interesting things to see here, and we are regularly adding more.

The 1904 J.W. McCoy Annual Catalog (34 pages of pottery).This catalog has never been published in it's entirety.

James W. McCoy before 1899 This history includes further insight into his life.

The [first] Brush Pottery New information about George Brush's first pottery, which operated from late 1907 through 1908.

Photographs of the old Brush Pottery Plant Wonder what it looks like now? We did too! This area has lots really interesting photographs with captions.

The 1950 original Brush Catalog These pages have never before been published! There were 81 individual items offered in this catalog.

Blue Decorated Whitestone Bristol Ware section. There is new, never before published information about this Line. If you appreciate "blue and white" you will want to check it out.

Photographs of Pottery We have officially lost count, but there are now over 900 pictures individual pieces of Brush-McCoy pottery in this site.

Musical, Clock, and Canteen Jugs produced by Brush. There are some samples in here you may have never seen.

Resources – Are you Looking for more reading material on Brush-McCoy? Check out these excellent resources.

Links - Some other websites we think you will like.

Lost? - Check out the Site Map
Registration is required to access this site. There are two ways to register.
Register for No Charge - No kidding… find out how.
Regular Registration - A fëë is required for access. This fëë is modest compared to what you would pay for comparable reference material. The abundance of information contained in this site is likely to grow over time; which makes it a bargain.
Begin your journey now by registering.
Still hesitant to subscribe? If you choose to pay for membership, and if for some reason you don't want to remain a member after viewing at the site, we will refund your fëë. We are confident you will like like what you see!